Here at the shop we all have different taste in what we enjoy most in terms of automobiles. From French classics to Japanese metal we all have our niche but there is one thing we can all agree on, the Ferrari FF is a truly impressive vehicle. It breaks with what some may see as a "traditional" Ferrari with its front engine, all-wheel drive layout (the first production four-wheel drive model for Ferrari) and goes even further with its gorgeous grand touring design by Pininfarina in collaboration with the Ferrari Style Centre. With elegant lines and a stunning, rich interior it very much so is a sight to behold. When we were tasked with giving this Nero 2012 model a renewed, rejuvenated appearance, along with some serious protection to keep it that way, we were thrilled to begin.
CQuartz Finest along with Clearshield paint protection film were up to the task of bring this FF to a new level. This customer elected for a 2-step paint correction coupled with a Level 2 CQuartz Finest installation, and complete front end PPF coverage with some extras. Finest and film is match made in heaven to defend against not only staining, wash marring, and environmental contamination, but also rock chipping while delivering unparalleled gloss and ease of maintenance for years to come. After a journey here from the southern states it was time to dive into a decontamination and an interior service.
Interior
The cabin of the FF is something to behold. This one was in need of some intensive leather care to bring it back into proper form after a light cleaning.
Exterior
Initial Condition
Decontamination
After the interior we dove into our multi-step decontamination. First we performed a 24-step wash, leading into iron and tar removal using CarPro's Iron X and Tar X, followed by a nano-clay treatment.
After decontamination it was time to tape off sensitive areas in order to preserve their finish and begin our 2-step paint correction prior to application of CQuartz Finest. The paint surface was riddled with imperfections but our service had it dialed once again.
Paint Protection Film
Paint Protection Film (PPF) is a tough, nearly invisible, barrier for your paint surface that helps protect against chips, scratches and stains caused by road debris, insects and more. It greatly compliments a coating installation no matter which product you may choose, in that it is the ultimate solution against rock chipping in this harsh climate.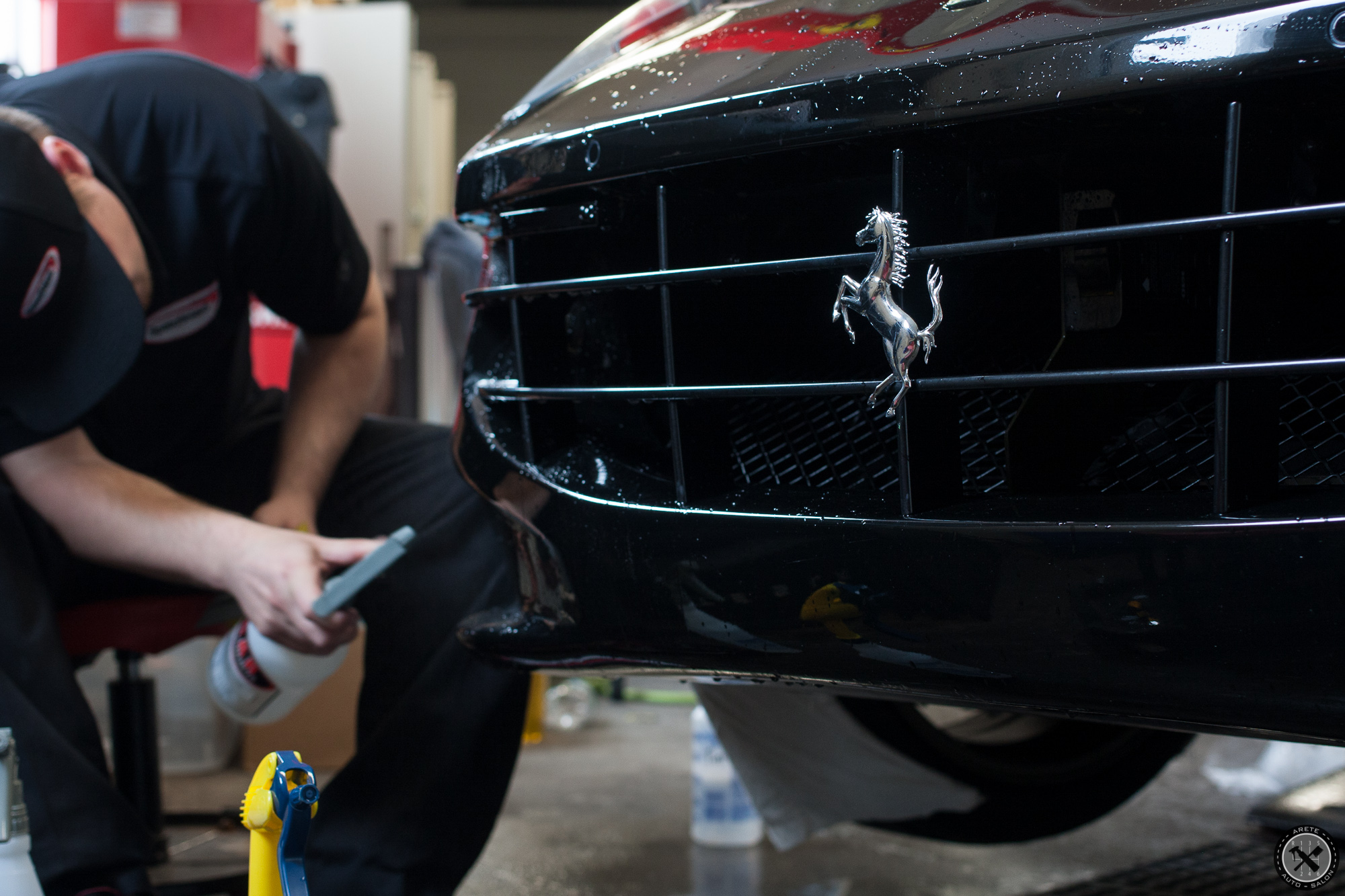 Coating
CQuartz Finest is an incredibly impressive product. It delivers absolutely insane gloss, water behavior, ease of cleaning, and much more. We stacked 3 layers on the Nero paint of this one and it looked like a deep pool. The wheels were also removed, decontaminated, and coated with CQuartz DLUX; along with the calipers. This Ferrari can now enjoy 2+ years of proper protection along with the other benefits Finest delivers.
Fin.
It was simply a pleasure to care for another FF. The Ferrari Four is a very special automobile and it definitely solicits emotion from anyone who sees one. Very few cars have the ability to evoke desire and passion within those that may not see cars in the light that many enthusiasts do. Ferrari makes vehicles that speak to the hearts and minds of all. CQuartz Finest is up to the task of making care for this specimen a breeze. If coatings interest you or if you just want to chat about car care, we love everything on wheels.
As always, thanks for reading.
-The Team @ Arete